Gaming Intel is an independent video gaming and Esports news website founded in 2016. We are a growing team with a wide range of inside sources, allowing us to publish exclusive leaks and rumors about unannounced video game details.
We have a passion at Gaming Intel to provide the most accurate information with the deepest insight into the video games industry. Our team of writers are ready 24 hours a day, 7 days a week to cover breaking news and game updates for our audience of over 1 million monthly visitors in website and social media interaction.
Everyone at the team has a passion in gaming, all of us playing various games and consoles from a very early age. We understand from our own experiences why people are so passionate about gaming and we do our best to interpret that in our choice of content. There are no limits to the content and games which we will cover. Our team will gradually expand to keep up with the news our fans desire.
Editorial Guidelines & Publishing Principles
At Gaming Intel, providing high quality and engaging content is our top priority.
Our writers are experienced in providing original, accurate, engaging content. Ethics is important to us, and as a team, we strive to keep our content free of conflicts.
If you have any concerns about any of the content on our platform, please reach out to us at [email protected].
The Editorial Team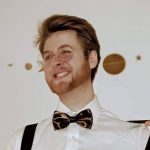 Maxwell Jeffery
Lead Writer
Max is an experienced writer and lover of all things video games, situated in Manchester, United Kingdom. From the first moment he held his GameBoy, equipped with Pokemon Silver, he knew that he had to make gaming his career. Since then, he's written hundreds of articles for a number of sites, including Ginx eSports, The Gamer, and Game Rant. When not writing, he dreams of one day making his own game.
View Max's Articles
---
Django has grown up with a PlayStation controller in his hands and loves all kinds of games from Persona 5 to Rocket League. Having written for Time Out London and Digital Spy, he is now looking to launch his career as a videogames journalist.
View Django's Articles
---
Elliot loves all things Gaming, especially on PC and Nintendo Switch. Any game that he can get lost in is his cup of tea! He's an experienced writer with a heavy focus on providing accurate, clear, and concise content.
View Elliot's Articles

---
Trading Address
Clicflux Ltd – Company No. 09770095
Gamingintel.com is a trading name of the company Clicflux Ltd, registered in the UK.
Morris Crocker Accountants
Station House,
North St,
Havant
PO9 1QU
United Kingdom
Contact us
Office Phone Number: +442392791595
Phone Hours: 9AM – 5PM (UK Time)
Email: [email protected] (We aim to reply within 24 hours)